Be sun kissed in the Western Caribbean on it's pristine beaches, beautiful mountain slopes or in it's historic towns. Labadee, Haiiti, surrounded by exotic foliage and breathtaking scenery can only be visited by Royal Caribbean. If the kids are on board, take them to the new Aqua park. Falmouth, Jamaica takes you back in time with
it's quaint wooden houses lining the streets, village carpenters hand crafting custom furniture and tavern keepers warmly greeting town guests. Grand Cayman is one of a group of three magnificent tropical islands Christopher Columbus called "Las Tortugas" (the turtles) for the sea creatures he found in the ocean water. Enjoy learning about the turtles, visiting the town of Hell, exploring Seven-Mile Beach and enjoying the undersea world. Seek out gold and silver jewellery on the shores of Cozumel or immerse yourself in the culture in one of its many bars and restuarants. The waters around Cozumel's sheltered coral reefs make this one of the best snorkeling areas in the world.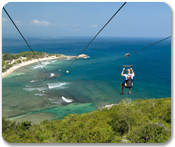 Cruise Operator: Royal Caribbean International
Vessel: Freedom of the Seas
Ports of Call: Port Canaveral, Labadee, Falmouth, George Town, Cozumel, Port Canaveral.
Sailing Dates: Departs: Sun, Apr 1 2012 - Arrives: Sun, Apr 8 2012.


Cruise Itinerary
Total length of Cruise: 7 nights.
Days/ Ports of Call/ Arrivals & Departures
Day 1 Port Canaveral - Sun, Apr 1 2012 16:30
Day 3 Labadee - Tue, Apr 3 2012 08:00 - Tue, Apr 3 2012 17:00
Day 4 Falmouth - Wed, Apr 4 2012 10:00 - Wed, Apr 4 2012 19:00
Day 5 George Town - Thu, Apr 5 2012 08:00 - Thu, Apr 5 2012 16:00
Day 6 Cozumel - Fri, Apr 6 2012 10:00 - Fri, Apr 6 2012 19:00
Day 8 Port Canaveral - Sun, Apr 8 2012 06:00
About the Freedom of the Seas
Experience Royal Caribbean's largest, most innovative ship yet, Freedom of the Seas! This Royal Caribbean International masterpiece of naval engineering features the first-ever onboard surf park at sea; cantilevered whirlpools that extend 12 feet beyond the sides of the ship; the H20 ZoneSM waterpark, complete with interactive sculpture fountains, ground geysers and a cascading waterfall; the largest rock-climbing wall, with eleven routes and a central spire you can swing around; and so much more! Extensive WiFi capabilities and connectivity for cell phones will also be available, as well as flat-screen TVs in every stateroom. You've got to see this ship to believe it. Read more about the Freedom of the Seas here.